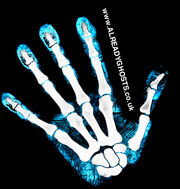 A
blue hand
is one of the clues in the
Mosaic Investigation
; it turns out to be the symbol of
Already Ghosts
, an organization of
ghosts
who gather at
Blue Hand clubs
. A blue hand is also the
title image
of episode 1.06 "
Scary Monsters and Super Creeps
".
"BLUE HAND" was seen in episode 1.01 "No More Good Days" as one of the Mosaic Investigation post-it notes.
In episode 1.06 "Scary Monsters and Super Creeps", a blue hand is found on the body of one of the assassins from the previous episode, 1.05 "Gimme Some Truth". Based on Mark Benford's flashforward clue that a blue hand was linked to Baltimore, Demetri Noh decides to investigate Baltimore St. and brings Al Gough along with him. They find blue hands pointing the way to a Blue Hand club, where they find dead bodies with blue hands.
Al, Demetri and Mark later visit a Blue Hand club and arrest a member, preventing him from committing suicide. ("The Gift")
Ad blocker interference detected!
Wikia is a free-to-use site that makes money from advertising. We have a modified experience for viewers using ad blockers

Wikia is not accessible if you've made further modifications. Remove the custom ad blocker rule(s) and the page will load as expected.