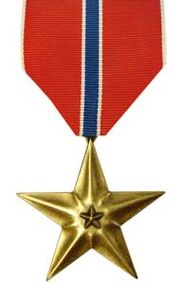 The Bronze Star is the United States Armed Forces' fourth-highest award for heroism. It is awarded to a member of the military who performed heroically while engaged in an action against an enemy of the United States. To be eligible for the Bronze Star, a soldier member must be getting imminent danger pay, during the event for which the medal is to be awarded. The Bronze Star Medal is typically referred to by its full name (including the word "Medal") to differentiate the decoration from bronze eroismservice stars which are worn on campaign medals and service awards.
Ad blocker interference detected!
Wikia is a free-to-use site that makes money from advertising. We have a modified experience for viewers using ad blockers

Wikia is not accessible if you've made further modifications. Remove the custom ad blocker rule(s) and the page will load as expected.