"Countdown" is the twenty-first episode of season one of FlashForward. It first aired in the United States on Thursday, May 20, 2010, on ABC.
Previously on FlashForward Edit
Charlie's fears
Edit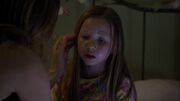 Charlie Benford
has a nightmare...
Working with Simon
Edit
Simon Campos
is trying to convince
Janis Hawk
to help him get to the
National Linear Accelerator Project
because he wants revenge against the people who caused the
Global Blackout
. Demetri arrives and a shorft fight ensues. Janis constrains Simon but, in doing so, receives a blow to her abdomen.
Bryce, Nicole and Keiko
Edit
Nicole Kirby visits Bryce Varley at his home to talk about what they are going to do that day; she looks at a drawing of Keiko Arahida and her guilty feeling about not having told Bryce that Keiko is detained in Los Angeles returns. Keiko is told by an interpreter that she could be held for as long as a year until her immigration case is heard.
Afghanistan
Edit
In Afghanistan,
Aaron Stark
places his wounded daughter
Tracy Stark
onto a rough cot in the room he saw in his Flash so
Kahmir Dejan
can try to save her life. Aaron interrogates
Keith Connor
, a
Jericho
operator and learns that the villagers Tracy had thought were dead were actually unconscious as a result of a test for the
Global Blackout
. Jericho wanted Tracy to find out why she remained conscious while within the one kilometer range of the experiment. Tracy died shortly after.
Mark's descent into madness
Edit
Lucas Hellinger tells Mark Benford that there are various paths from the present through the day but that they all end with Mark dead in his office. Back in Los Angeles, Mark briefs Stanford Wedeck and Marshall Vogel on his discovery of the relationship between the term "tachyon" and a data warehousing company, Tachyon Offsite Information Systems.
Demetri and Zoey disagree
Edit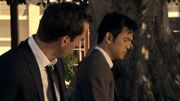 Mark Benford
and
Demetri Noh
discuss what they have accomplished and Mark convinces...
Demetri Noh
meets
Zoey Andata
at the airport to fly to Hawaii; he tells her that he is the father of
Janis Hawk
's child. Zoey responds that she is flying to Hawaii with her parents and that she does not want him to come with her.
External links
Edit
Ad blocker interference detected!
Wikia is a free-to-use site that makes money from advertising. We have a modified experience for viewers using ad blockers

Wikia is not accessible if you've made further modifications. Remove the custom ad blocker rule(s) and the page will load as expected.