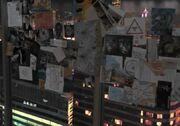 Nhadra Udaya
had a wall in her office that was similar in concept to that of
Mark Benford
's
Mosaic Investigation wall
. Nhadra's featured many of the same items as the
FBI
's. Each wall has items that the other did not. Even in cases where items appear on both walls, there are differences which may or may not be minor physically and plotwise.
Items only on Nhadra's wall
Edit
Common items of Mark's and Nhadra's wall
Edit
Unanswered Questions
Edit
Unanswered questions
Do not answer the questions here.
Keep the questions open-ended and neutral: do not suggest an answer.
Avoid questions that are unlikely to be answered.
Theories for these unanswered questions should go on this article's theory page.
How did Nhadra get this information?
How does Nhadra get clues before Mark does (e.g. the hydra clue)?
What do the differences between Nhadra's wall and Mark's wall mean and what do they indicate for the future?
What significance, if any, do differences between clues on the two walls indicate (e.g. the cropped hydra or Nhadra's black and white photos)?
Ad blocker interference detected!
Wikia is a free-to-use site that makes money from advertising. We have a modified experience for viewers using ad blockers

Wikia is not accessible if you've made further modifications. Remove the custom ad blocker rule(s) and the page will load as expected.