Ad blocker interference detected!
Wikia is a free-to-use site that makes money from advertising. We have a modified experience for viewers using ad blockers

Wikia is not accessible if you've made further modifications. Remove the custom ad blocker rule(s) and the page will load as expected.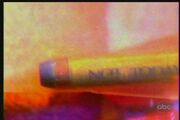 A bullet with the inscription "NOT TODAY" was seen in an evidence bag put up on the Mosaic Investigation wall in Mark's flashforward. The Not Today bullet is the title image of "The Gift".
The Not Today bullet was the only bullet in a revolver used for playing Russian roulette in a Blue Hand club. Romanchak pointed the revolver at himself and pulled the trigger. He placed it on a table and Al Gough did it himself. When nothing happened he took the revolver back from Al and emptied it, revealing the bullet engraved with "NOT TODAY". ("The Gift")