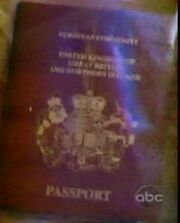 A United Kingdom passport in an evidence bag was seen on the Mosaic Investigation wall in Mark's flashforward. Like all UK passports issued from 1988 until 1997, it had the British royal coat of arms and the text "European Community. United Kingdom of Great Britain and Northern Ireland. Passport" on its cover.
UK passports issued after 1997 have the words "European Union", not "European Community" on the front cover.
A United Kingdom passport was eventually found by the Mosaic Investigation and used to identify Ian Rutherford. ("The Gift")
Ad blocker interference detected!
Wikia is a free-to-use site that makes money from advertising. We have a modified experience for viewers using ad blockers

Wikia is not accessible if you've made further modifications. Remove the custom ad blocker rule(s) and the page will load as expected.