Amateur Chess Championship 1987
Edit
While looking at the list of chess players from 1987, I noticed the name "I. Varley" on the list. Could this be a relative to Bryce? Also note a "G. Martyn" on the list, which fits the "Martin Goathead" name Bryce is telling Nicole about in "Better Angels". —ff 09:59, April 9, 2010 (UTC)
Sacrifice move
Edit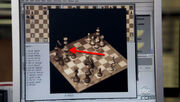 Can someone, who doesn't suck as bad in chess as I do, please explain why this move is a queen sacrifice? I fail to see the danger for the white queen … —ff 10:08, April 9, 2010 (UTC)
IDs needed
Edit
When/where did Nurse Kim Jones appear?
Who portrayed the head ICE officer (uncredited, but speaking role)?
--Jim in Georgia Contribs Talk 23:35, April 10, 2010 (UTC)
Ad blocker interference detected!
Wikia is a free-to-use site that makes money from advertising. We have a modified experience for viewers using ad blockers

Wikia is not accessible if you've made further modifications. Remove the custom ad blocker rule(s) and the page will load as expected.