Tim Tim and Squirrelio is a cartoon show produced exclusively for FlashForward and enjoyed by children, including Charlie Benford and Dylan Simcoe. Characters include: "Tim Tim"
"Squirrelio (voiced by Sonya Walger)"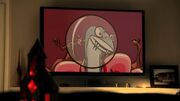 "Super Shark"
"Monkey See"
"Monkey Do"
"Jim Tim," Tim Tim's father who was portrayed as a human by
Mark Benford
on Halloween.
A girl with red pigtails

Greeting:
Nuts to you, Squirrelio!
Toot, toot!
Toot, toot!
The cartoon show contains hints which are not essential to enjoying the show.
Unanswered Questions
Edit
Unanswered questions
Do not answer the questions here.
Keep the questions open-ended and neutral: do not suggest an answer.
Avoid questions that are unlikely to be answered.
Theories for these unanswered questions should go on this article's theory page.
Ad blocker interference detected!
Wikia is a free-to-use site that makes money from advertising. We have a modified experience for viewers using ad blockers

Wikia is not accessible if you've made further modifications. Remove the custom ad blocker rule(s) and the page will load as expected.